Sharon's Eyelash Studio
Pemasangan bulu mata agar tampak lebih panjang, tebal, dan lentik. Menggunakan bahan yang aman, FDA Approved dan bebas allergen. Pemakaian terasa ringan, nyaman dan tahan lama.
Step 1: Choose Your LOOK
Natural
You… only Better 🙂 Longer eyelash extensions tapered to follow your existing lash line and enhance the natural shape of your eyes.

Gorgeous
Longer lashes are placed at the center of the eyes, to make the eyes look bigger, rounder and more open.

Sexy
This style features eyelash extensions that are longer on the outside edge of the eyes. Longer lashes on the outside corner of your eye will make your eyes appear longer and sexier.

American Doll
This style features longer and thicker eyelash extensions along the entire lash line. With longer, fuller lashes all over, make your eyes look bigger, rounder and more open.
Step 2: Choose Your CURVE
OR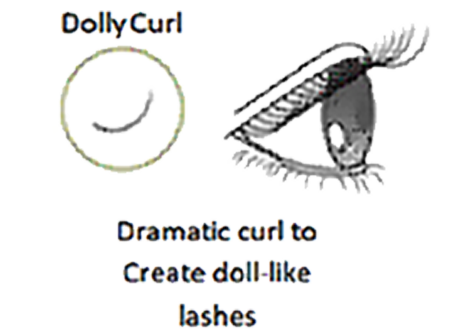 Why Sharon's FabuLASH EYELASH EXTENSION?
"The HEALTHY and QUALITY EyeLash Extensions"
Totally Skin-Cancer FREE, FDA Approved and Allergen-FREE – will not harm your natural lashes (we emphasize on the Health of The Natural Lashes)
The ONLY Eyelash Extension system that is Certified and Ophthalmologist Tested, Pharmaceutical Grade and Doctor Formulated for Safety
Glycol and Carbonate-FREE to ensure no irritation or harm to your eyes
Enhanced with Natural plant extracts, peptides and multi-vitamins to promote healthier natural lashes
Professional, Highly-Trained and Experienced Team of Lash Technicians
FREE Style Consultation to understand the look you are seeking and how to customize our styles to achieve the lashes you are seeking, flawlessly
Award Winning, Made in USA
Hygenic – Safety precautions and sanitation measures are taken to ensure the best, most comfortable and hygenic experience for every client
Extremely Lightweight
Very PREMIERble – The lashes are water-proof, oil-proof, flexible, and they last 2 times longer than other brands. The elasticity stays well even after shower and sauna.
Comfortable
So Very Natural Curve and Finish (Colour, Texture and Curl) like your own
Easy to Maintain
Why EYELASH EXTENSION?
Look Amazing…INSTANTLY !!!

"People will stare. Make it worth their while."

The First Thing you will notice is How Good You Look with your New Eyelash Extensions! Your friends and family will notice them too and demand to know your secret! Long, full, thick lashes make a strong statement all on their own.
Feel Beautiful and Confident
GOOD LASHES,
GOOD MOOD,
GOOD DAY…
EVERYDAY !!!

When you look good, you can't help but feel good too. Knowing your eyes look great all day long, gives you Confidence without the fuss. Wake up knowing you're ready to take on whatever the day brings your way.
Save Time – Convenienced Beauty
A Girl is Not Complete Without Her Lashes
There's really no denying that when it comes to making Your Overall Look Shine, Longer, Thicker Eyelashes really can make a Huge Difference. And because you wake up like this, your morning routine is Quick and Easy.
In fact, our customers find they like the way they look with just lashes, and feel they need Less Make Up.
Have a FabuLASH Day !